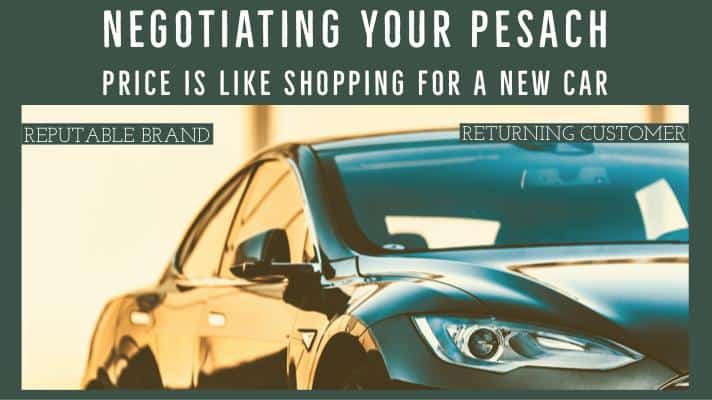 How To Score A Deal on a Pesach Program
If you have ever shopped for a car, you know the headache I'm talking about. Going from dealership to dealership quoting prices and comparing the sales. Trying to squeeze in any perks such as free oil changes, extra mile allowances, even shaving $20 off your monthly payments feels like a win. You want to
walk away knowing you got the best "deal" and the same goes for closing a deal with a Pesach program. If you call a dealership with a specific car in mind, most likely they will not quote you a price over the phone. "It depends on your credit" they say, "you need to come in and talk to someone on our sales team" is usually their next line. Similar tactics are used when you come across a Pesach programs' ad, you won't see a price on there. They are competing with "neighboring dealerships" and want to get you on the phone with their sales pitch rather than simply publishing prices.
If you've called a Pesach program asking for their rates, chances are you will be asking for a "deal", and not showing your cards until after they've quoted you a price. "That's the market rate. But how much is it if I bring a group of 40 with me?" Bulk discounts are available on some programs with lots of rooms to fill while other programs stand firm on their price. "Can you throw in a private Seder for that price?" "Can we get the ocean front room for the price of the garden view room?" Usually, upon closing the deal it goes like this, "Please do not tell anyone I'm giving you this price. I'm losing money on you." Everyone wants to walk away feeling like they got a deal.
Here are some helpful tips in trying to get a deal.
New Programs:
Similar to how you would pay top dollar for a reputable car with all the finest luxury, expect little to no discounts. However, if it's a new program you should definitely not be paying the price of a high end program that's been in business for more than 7 years. If you are paying below the market rate, (which you should if it's a new program) bumps and disorganization should be expected. You don't open the door to your Honda and expect it to feel like a Maserati, so don't set your expectations of perfection even if the program promises the world (which most do). Call around to places of similar caliber, but have experience, so you'll know where to set the bar and a new program should be priced below.
Experienced Middle to High End Programs:
There are two ways to gamble on this. Either you lock in early with the early bird rate or you wait until February/March as they need to sell out. How to find out if they are close to being sold out? Call and ask if they have 10 rooms available for your group. If they do have so many rooms open late in the game, start negotiations.
Try and gather a group of people who you know would be interested in going to that program and work on a group rate, post in "passover program reviews" on Facebook if anyone is interested in banding together for a group rate.
If you had a great time on your program and know you want to go back the next year, ask if you can put down an early deposit shortly after Pesach ended.
Programs in locations with cheaper labor should be priced considerably lower than programs in the USA. Do your comparisons prior to calling.
High End Programs (that publish their prices)-do not even try to negotiate. They are high end for a reason and in order to deliver on the luxury and live up to their reputation, they are transparent about their prices and do not give out discounts. They are confident they will sell out and don't need your large group to fill rooms.
I know this industry is frustrating. What I can say is that if a program is not publishing their prices, chances are there is some wiggle room for them to throw in some freebies (kids at no charge, a small discount, etc.) It's a common and normal feeling to wonder if you paid the same rate as the family sitting at the table next to you.  Maybe they did, but their room is in a premier location. Good luck on your Pesach program shopping, and look out for holiday promotions.