2024 Passover Program Miami in Sunny Isles Beach, Florida
Rina's Best aka CU Caterer Passover Program Marco Polo Beach Resort
PESACH MARCO POLO 2024
Claudine Uzan Caterer
19201 COLLINS AVENUE SUNNY ISLES BEACH 33160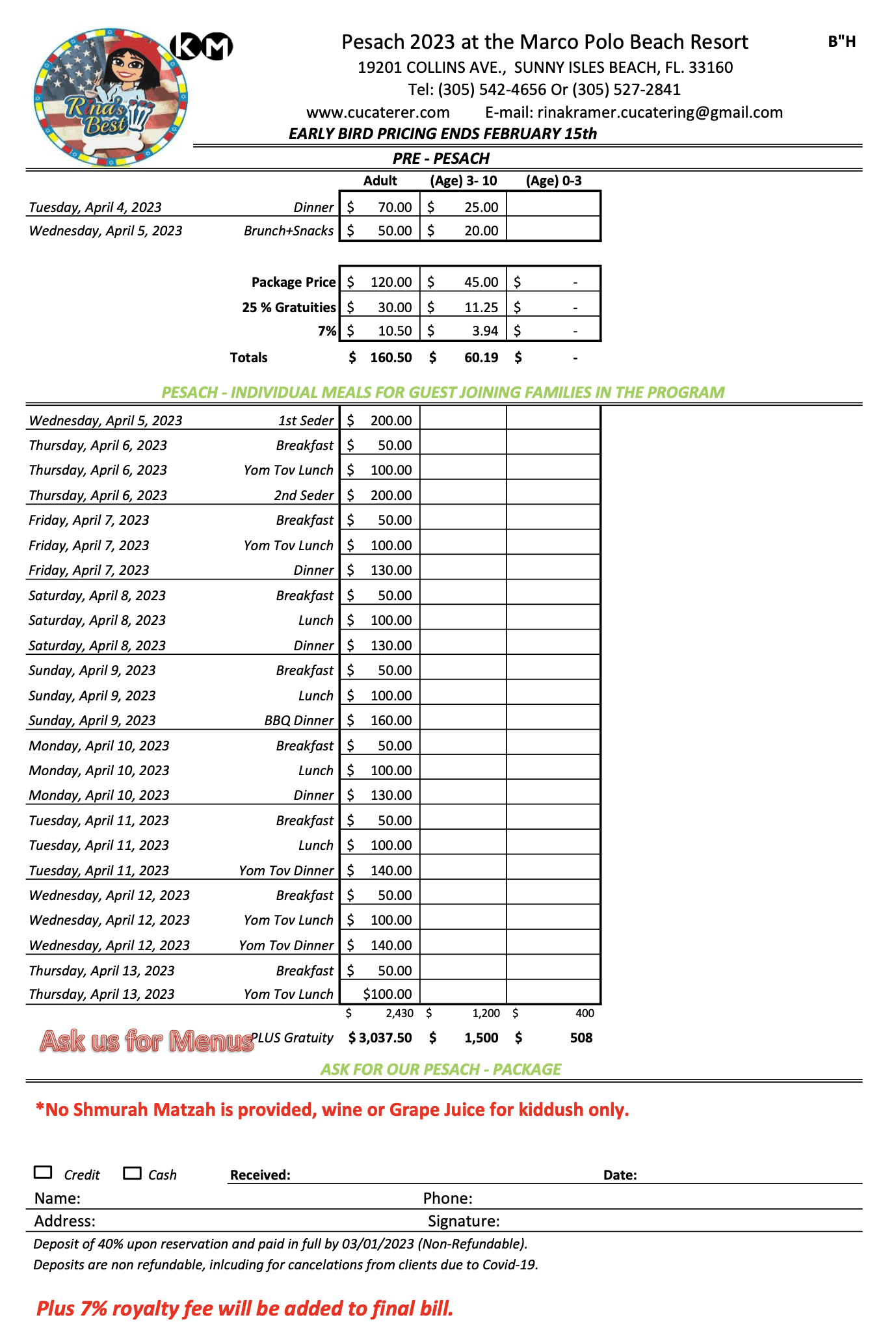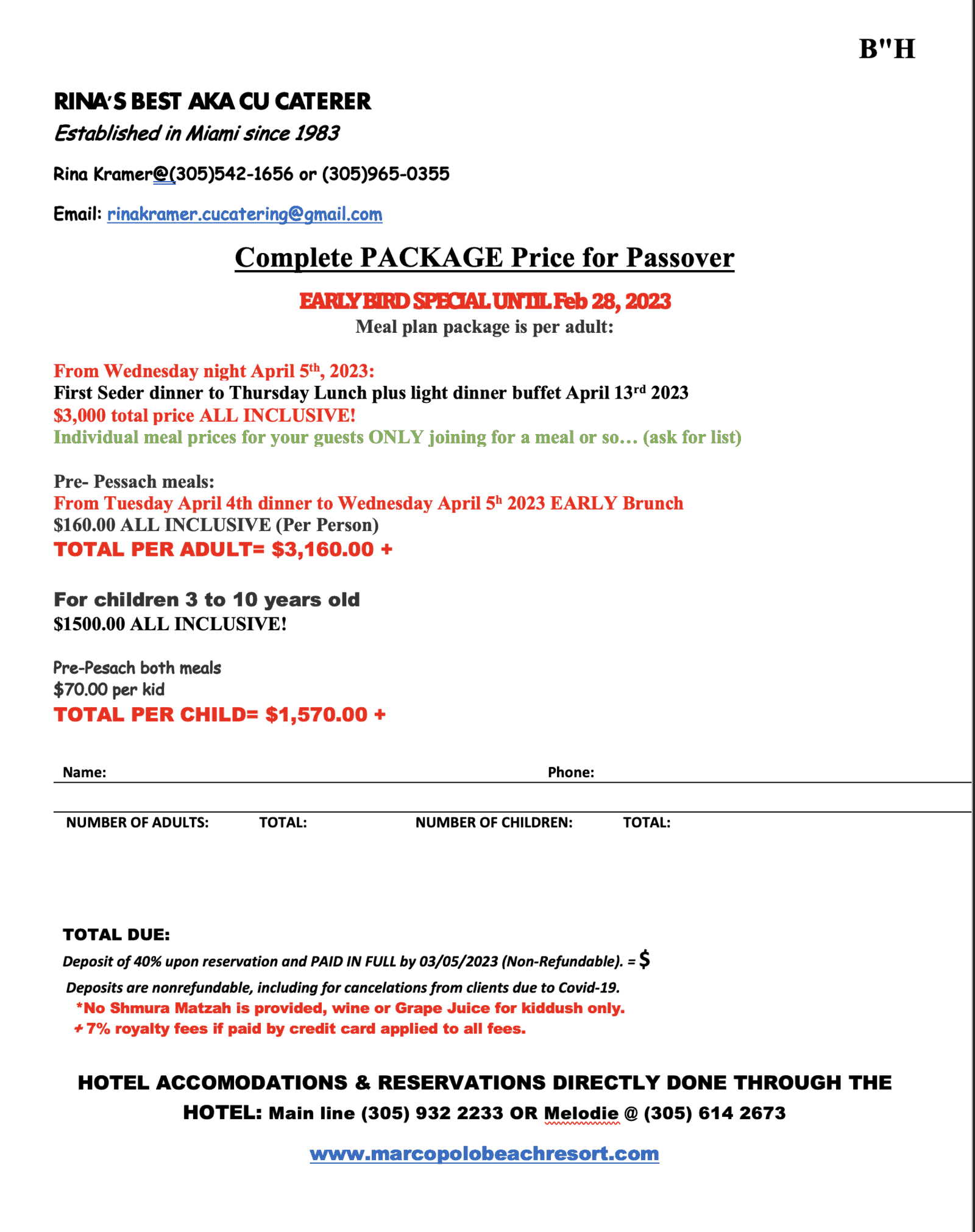 Pessach Year 2023
This is what I need
Pre- paid Passover 2023 meals or TAKE OUT*** to go meals by Credit card or cash or Zelle payments:
yamobeezer@yahoo.com
Address for the Marco Polo Beach Resort:
19201 Collins avenue
Sunny Isles Beach, 33160
Restaurant in the Lobby level
FOR TAKE OUT WE NEED TO KNOW EXACT DATE AND TIME OF PICK UP A WEEK IN ADVANCE
🔴🟡🔆➰➰➰➰➰➰➰➰➰🔆🟢🔵
Food allergy:
Please beware that all our food is cooked in a facilty that use:
Eggs 🥚 – almond milk- tree nuts 🌰 🥜 – fish 🐟 –
This is a no kitniot and a non gebrochst meal Plan🌻.
We are NOT a gluten free facility
We can accommodate gluten free meals for an additional fee.
You can bring your own wine 🍷 as long as it is MEVUSHAL( this will be checked before opening the bottle)
Candles 🕯🕯are provided to be lit for your convenience before shabbos
We have a Shul on our premises and have a minian.
🔵⚪️🔴🟢〰️➰〰️➰🟢🔴🔵🟣
I need:
1- Name
2- Amount of people/kids(age)- date of pre-paid meals
3- CC#
4- Expiration date
5- Security code: CVV#
6- Zip Code of CC mailing address
You need to know that paying by credit card or Zelle or wire transfer there is a royalty fee that will be added to your final bill.(7+% tax)
No checks accepted.
NO EXCEPTION.
The credit card will be charged immediately upon reservation and the remaining will be charged by March 1st 2023
Credit cards or cash payment must know and acknowledge the following:
Cancellation must be done 30 days before the event.
Cancellation Notice:
NO DEPOSITS ARE REFUNDABLE
No show = no refund and still owed al pi Halacha if supposed to be paid in cash and did not or could not make it before Pessach for whatever reasons.
No substitute of date will be allowed.
🔴CASH PAYMENT MUST SECURE THEIR RESERVATION BY GIVING A CREDIT CARD ON FILE THAT WILL BE KEPT AND CHARGED IF NOT PAID IN CASH OR NO SHOW OR NO CANCELLED RESERVATION ON TIME ( by the time of payment)
By giving us your credit card and all informations, it will be acting like a signature for confirmation on your reservation and knowledge of all informations above👆.
Please CONFIRM you read this clause and are aware of it.
" I read options and confirm…
please write your name signed and date"
We book your place in good faith that you know the Jewish laws pertaining to pre-paid or reserved Passover or shabbos or yom Tov meals.
Thank you very much.
We appreciate your patronage.
Rina Kramer 📲1(305)542-1656
Daniel Kramer📲1(305)527-2841
E-mail 📧: rinakramer.cucatering@gmail.com